Recipes
Roasted Red Pepper Risotto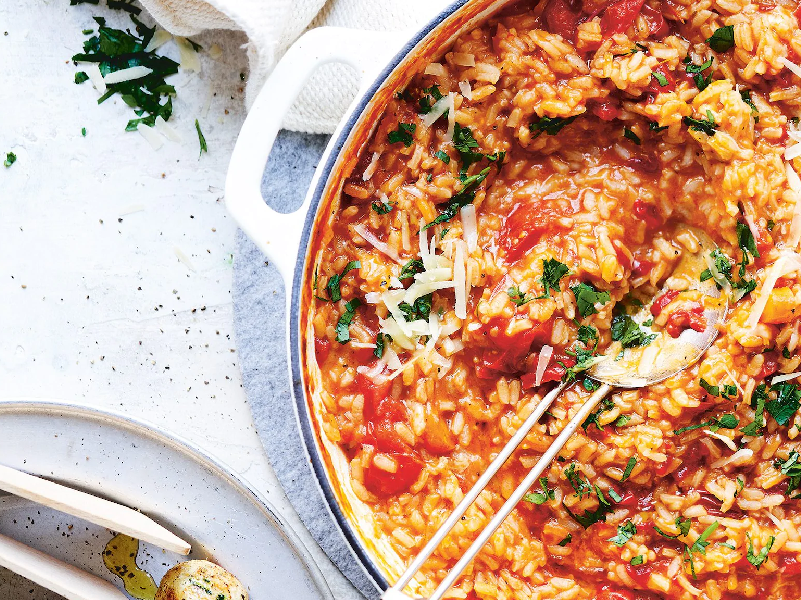 This scrummy risotto is baked in the oven and served with fresh parsley! It's super easy to make, low calorie, and packed with delicious flavours.

Prep: 5 mins
Cook: 30 mins
Calories: 334 per serving

Ingredients (serves 4):
1 tablespoon oil
1 large onion (finely chopped)
300g risotto rice
100ml white wine
400g chopped tomatoes
200g roasted red peppers
500ml vegetable stock
Handful flat-leaf parsley (chopped)
Parmesan cheese (to serve)

Method:
1. Heat the oven to 200C/fan 180C/gas 6.

2. In a large oven proof pan, heat the oil and then fry the onion for a few minutes until they are soft. Turn up to a high heat and stir in the rice, letting it fry for one minute.

3. Pour in the wine and stir until the rice has absorbed it all, then add the tomatoes, peppers and 400ml of the stock and stir.

4. Cover the pan and bake in the oven for about 25 minutes, until the rice is tender and creamy.

5. Stir in the remaining stock and the parsley, and then scatter parmesan cheese over the top. Serve up and enjoy!