Recipes
One-Pot Curried Cod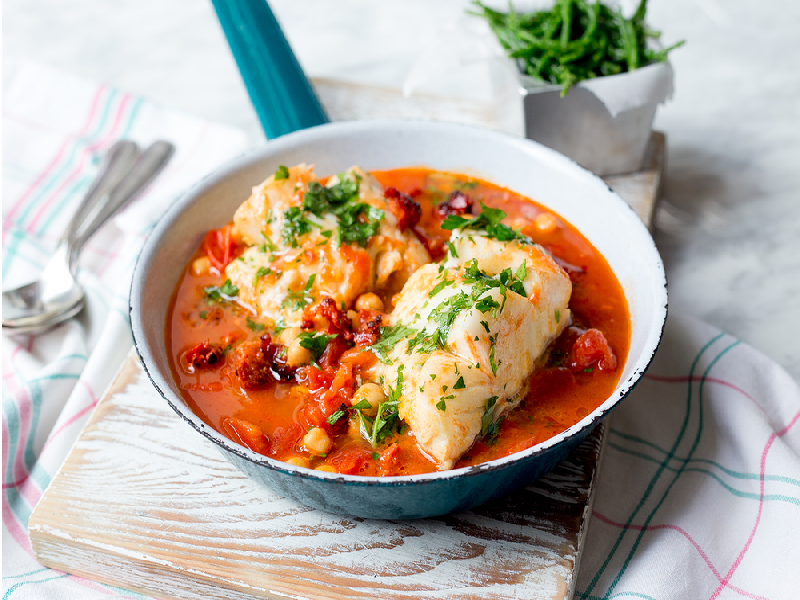 An easy, one-pot dish for any week night – it's healthy, low calorie, and packed with iron!

Prep: 20 mins
Cook: 30 mins
Calories: 296

Ingredients (serves 4):
1 tablespoon olive oil
1 onion (finely chopped)
2 tablespoons medium curry powder
Thumb sized piece of ginger (peeled and finely grated)
3 garlic cloves (crushed)
800g tinned chopped tomatoes
400g chickpeas
4 cod fillets (about 150g each)
4 cod fillets (about 150g each)
Zest of 1 lemon (then lemon cut into wedges)
Handful fresh coriander (roughly chopped)

Method:
1. In a large lidded frying pan, heat the oil and cook the onion over a high heat for 2 -3 minutes. Then, stir in the curry powder, ginger and garlic, and cook for a further 2 minutes.

2. Pour in the tomatoes and chickpeas and season with salt and pepper, then cook for 10 minutes until the sauce has thickened.

3. Top the sauce with the cod and cover the pan. Cook for 10 minutes until the fish is cooked through, and then scatter over the coriander and lemon zest.

4. Serve with a lemon wedge to squeeze over, and you can even ad a slice of crusty bread to soak up the sauce!