Recipes
Chicken & Mango Curry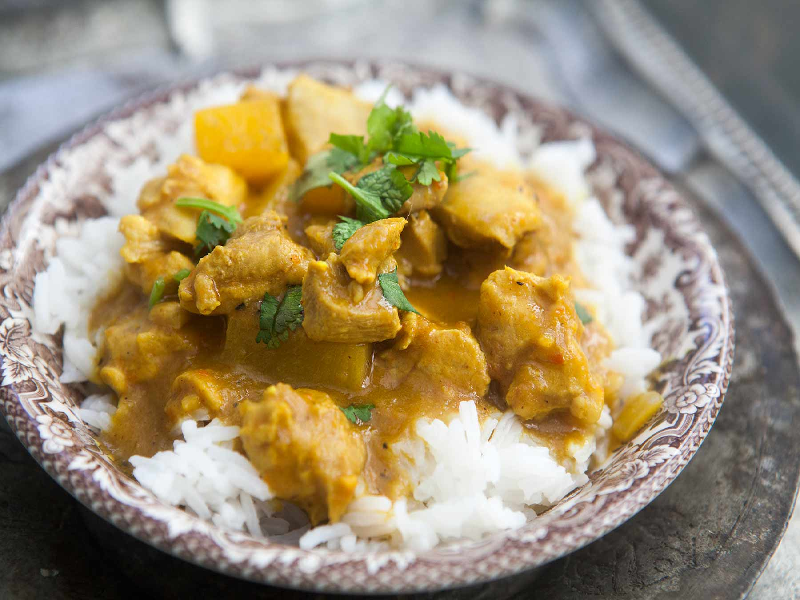 Creamy coconut, fragrant ginger, and sweet mango – a mild but delicious curry that can be served with rice, chutney and naan bread.

Prep: 10 mins
Cook: 1 hour
Calories: 384 per serving

Ingredients (serves 6-8):
12 chicken thighs (boneless and skinless)
2 teaspoons turmeric
2 tablespoon sunflower oil
2 onions (1 chopped and 1 quartered)
2 large ripe mangoes
2 large ripe mangoes
6 tablespoons good quality korma paste
100g ginger (roughly chopped)
2 tablespoons ground cumin
1 tablespoon black onion seeds
400g light coconut milk
600ml chicken stock
A few coriander sprigs, basmati rice, naan bread, mango chutney, lime pickle to serve (optional)

Method:
1. Toss the chicken thighs in some salt, with 1 teaspoon of the turmeric, then heat the oil in a large frying pan or flameproof casserole dish. Brown the thighs well on both sides, then remove from the pan and add the chopped onion, cooking it for about 5 minutes until it is soft.

2.  Cut the flesh from one mango and get as much as you can off the stone, then add to a food processor with the korma paste, ginger and quartered onion. Blitz into a paste and then pour into the pan and cook gently.

3. Stir in the turmeric, cumin and onion seed and bring to the boil, then add the chicken thighs to the pan, Stir in the stock and coconut milk and then bring to a gentle simmer and cover and cook for 20 minutes.

4. Uncover the pan and cook for another 30 minutes, until the chicken is really tender. If needed, you can add a few drops of water to keep the sauce consistency.

5. Peel and slice the remaining mango and stir into the pan to heat through, then shred the tender chicken with two forks.

6. Season to taste, then serve scattered with the optional coriander, rice, chutney and naan bread!