Bread Baking Corner
Easy Soda Bread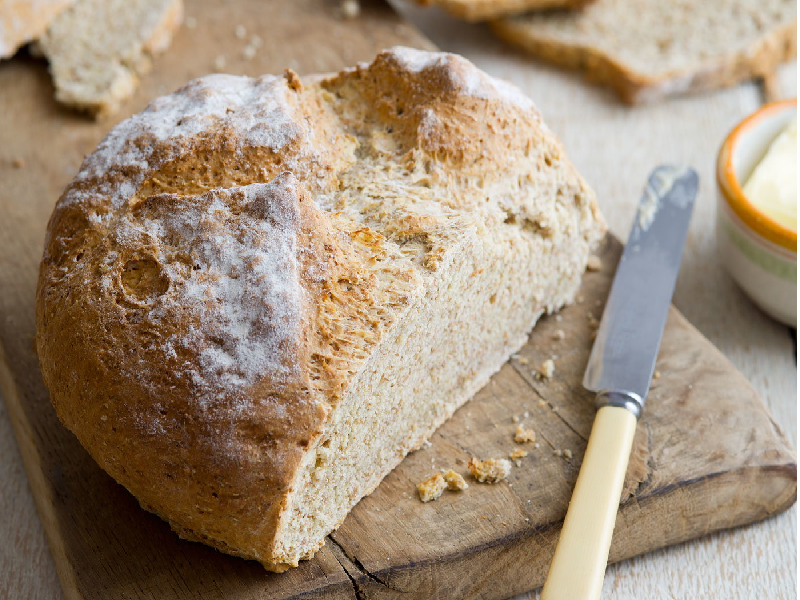 Want a simple bread recipe? This soda bread requires no kneading or proving, is yeast-free and above all, it's delicious!
Prep: 5 mins
Cook: 40 mins
Calories: 207 per serving
Ingredients (makes 10 slices):
500g plain wholemeal flour
2 teaspoons sea salt
1 teaspoon bicarbonate of soda
400ml whole milk
1 lemon (juiced)
2 teaspoon honey
Method:
1. Heat oven to 200C/180C fan/gas 6.
2. Mix together the flour, salt and bicarb in a bowl, then mix together the milk and lemon juice in a jug, and wait for a minute as it magically turns into buttermilk. Stir in the honey, and simply pour it into the flour mixture. Stir it with a knife for a minute until the whole thing comes together into a sticky dough.
3. Tip onto a floured work surface and shape it into a ball, then put the ball on a floured baking tray and, using a sharp knife, make a deep cross on top.
4. Put in the oven and bake for 40 minutes, then cool on a wire rack until warm, then slice and serve!
Top Tip: Add 1 tablespoon of finely chopped rosemary in step one to create an alternative rosemary soda bread.