5 years of nature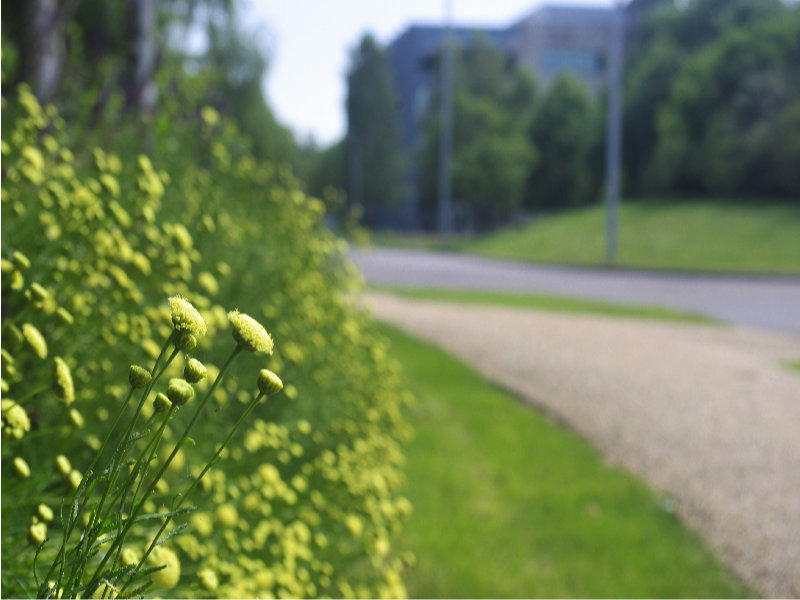 If you enjoy the beautiful wildlife at Green Park then keep reading to find out more about how we keep it thriving!
Five years ago we put a plan in place to introduce and enhance habitats here at Green Park, and we're proud to say we've succeeded! In those five years we've managed areas of our woodlands, reed beds, lake margins and hedges (and we've even used our undeveloped plots) all to benefit biodiversity and encourage nature to do its thing.
If you've walked around the paths in the spring or summer you might have noticed our wildflower meadows. There are eight in total and we monitor them every year as we get varying results of the botanical species which have reflected the climate during the five years. We've had periods of drought where very little grew and, although this was disappointing, we also had some perfect weather which allowed everything to blossom and showed us a huge variety in species. We're aiming to continue to increase the levels of biodiversity in our wildflower meadows and use the information from this year to encourage more species to the plots.
We've also been busy trialling grass snake breeding and monitoring the snake population by counting the eggshells after the breeding season. We created cosy nests to encourage breeding, and although they didn't take to these as egg laying sites, we have seen an increase in grass snakes across Green Park. We're going to revamp the nests and continue to encourage grass snake breeding over the next five years, so keep an eye out for an update! As well as grass snakes, we've discovered a new species to Green Park – the slow worm. Back in 2013 slow worms were pretty much non-existent across the park, but over the past five years we've seen approximately 40 slow worms in total, and during one search we saw a huge total of 15! We're so pleased that our hard work in managing the habitats has benefited the wildlife and contributed to allowing the slow worm to thrive.
Many of you will have seen the huge variety of birds we have too! In 2013 we recorded 42 different species of breeding birds and we can now count 49 different species, including the bullfinch, coal tit, Egyptian goose, grey wagtail, pheasant and tree creeper. We love that these beautiful birds have chosen Green Park as their home and hope that we can see the numbers rise in the coming years. Some of you may also know that we're super keen on bats and even host a bat walk and talk in the autumn so our occupiers can learn more about the species and even meet one or two! Over five years we have installed around 40 bat boxes in various different locations and in our most recent bat walk we found 6 different species – common, soprano, and nathusius pipistrelles, the noctule, Daubenton's, and the brown long-eared bat. There has been an increase in the usage of the bat boxes too, with only one bat being found in the first survey, but with 4 found in the latest survey and two boxes showing signs of usage.
In 2020, we started a new five year plan so we can continue to encourage the wildlife at Green Park and create more opportunities for breeding birds, roosting bats, hedgehogs, invasive species and botanical species. We'll keep you updated along the way with stories and events, and if you're around and about and manage to snap a picture of our beautiful wildlife then we'd love you to share this with us too!