Recipes
Warm Nectarine Tart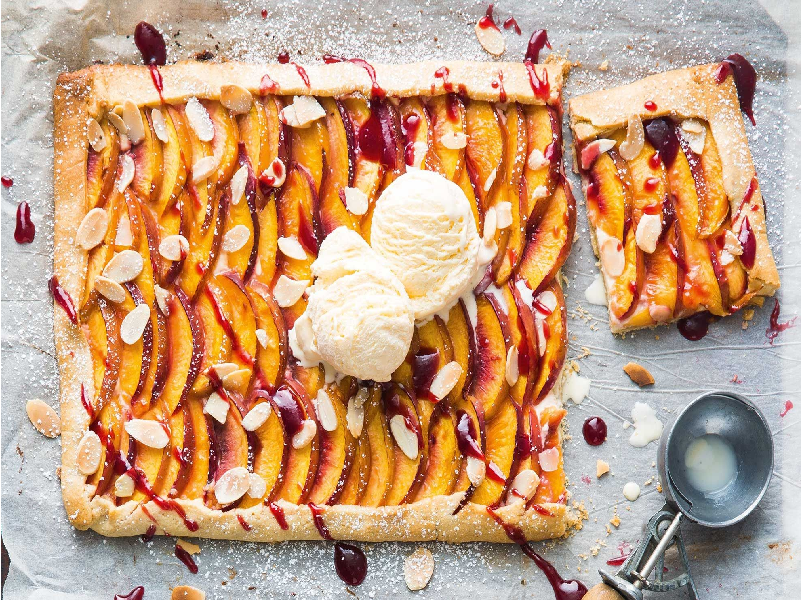 Topped with fresh necatarines and almonds, this tart is sweet, succulent and scrumptious. Perfect for a sunny afternoon in the garden.
Prep: 10 mins
Cook: 20 mins
Calories: 193 per serving
Ingredients (serves 4):
3 ripe (but firm) nectarines or peaches
2 sheets of filo pastry (approx. 48cm x 25cm)
Oil (for spraying)
50g white or golden marzipan
1 tablespoon flaked almonds
2 teaspoons caster sugar
Half-fat crème fraiche (optional)
Method:
1. Preheat the oven to 190˚C/Fan 170˚/Gas 5. Also prepare a baking tray with baking paper and leave to one side.
2. Take a nectarine and carefully slice it from the top to the bottom towards the stone with a small knife, working your way around the whole fruit. Put the pieces in a bowl (there should be about 12) and throw the stone away. Repeat this with other nectarines/peaches.
3. Unroll the filo pastry and cut each sheet in half so you end up with four squares. Put one of the squares on the baking tray and mist the pastry with the spraying oil, then add another square of pastry on top and repeat, until all four sheets are stacked. Give the top sheet another quick spritz with the oil.
4. Finely grate the marzipan evenly over the pastry (mind your fingers) and then add the nectarines on top – they don't need to be even and patterned, the more rustic looking the better – and make sure you leave about a 2cm gap around the edge of the pastry as a border. Scatter the almonds on top and sprinkle the sugar over the tart.
5. Bake the tart for about 20 minutes until the fruit is glossy and soft, and the pastry golden and crisp. Cut into four squares and serve warm with a tablespoon of crème fraiche, or if you're feeling naughty try it with vanilla ice cream!