Recipes
Vegan Apple Crumble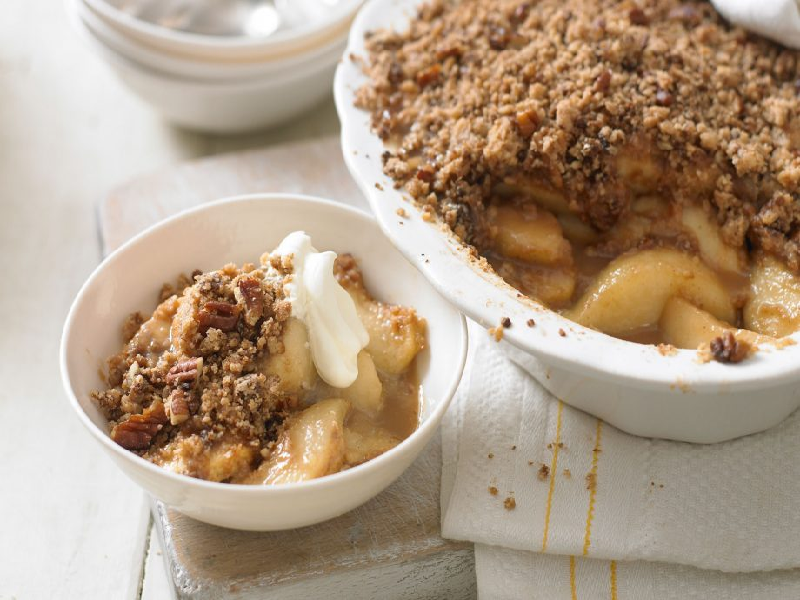 We've turned this classic dish vegan – a great pudding to have any night of the week and best served with vegan custard – yum!
Prep: 15 mins
Cook: 40 mins
Calories: 538 per serving
Ingredients (serves 4):
For the filling:
575g Bramely apples (cored and cut into 1cm chunks)
1 tablespoon golden caster sugar
For the crumble:
175g plain flour
110g golden caster sugar
110g diary-free spread
1 tablespoon rolled oats
1 teaspoon demerara sugar
Method:
1. Preheat the oven to 190˚C/Fan 170˚/Gas 5
2. In a baking dish that is approximately 23cm width and 5cm deep, toss the apples with the caster sugar and once they are covered flatten them down into the dish with your hand.
3. For the topping, mix the flour and sugar in a bowl with a pinch of salt, and then rub the dairy-free spread into the mixture with your fingertips until it looks like moist breadcrumbs. Shaking the bowl gently will allow any large bits to ride to the surface and you can rub these in too.
4. Pour the crumble mix over the apples in a pile in the centre and then use a fork to even it out, pressing down to compact the mixture. Lightly drag a fork across the top to give a little decoration and then sprinkle the oats and demerara sugar on top.
5. Place on a baking tray and put in the oven for 35-40 minutes, until the top is golden brown and the apples feel soft when poked with a skewer.
6. Allow it to cool for about 10 minutes before serving with dairy free custard, cream or ice cream!