Recipes
Thai Green Chicken Curry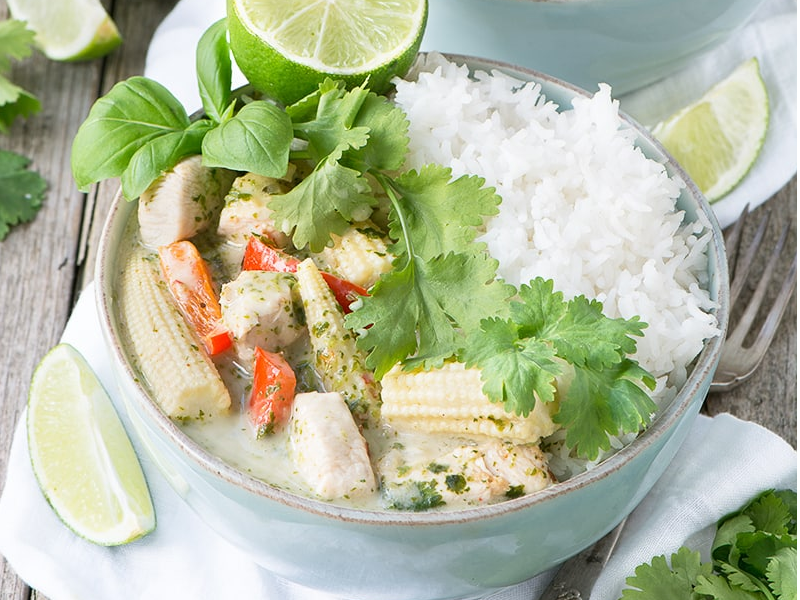 Inspire your taste buds with this fragrant Thai green chicken curry. We've made this one with chicken but you can switch it up by using prawns, or even adding extra veg like finely sliced peppers, mangetout, baby corn or sliced mushrooms.
Prep: 5 mins
Cook: 15 mins
Calories: 355 per serving
Ingredients (serves 4):
1 teaspoon vegetable oil
1 red onion (cut into half-moon slices)
4 teaspoons of Thai green curry paste
800g light coconut milk (canned)
2 tablespoons fish sauce
2 limes (zest and juice)
1 fresh red chilli (finely chopped)
200g green beans (trimmed and halved)
4 skinless chicken breasts (cut into strips)
A handful of basil leaves
Method:
1. Heat the oil in a medium pan, and then add the onions and fry until they are soft.
2. Add the paste to the pan and cook for about 2 minutes, then pour in the coconut milk, fish sauce,the chilli, lime zest and juice, and bring to simmer.
3. Add the chicken and the beans and cook for about 10mins, or until the chicken is cooked through, stirring occasionally.
4. Just before serving, add the basil leaves. Then serve with basmati rice and enjoy!