Recipes
Strawberry Shortcake Slice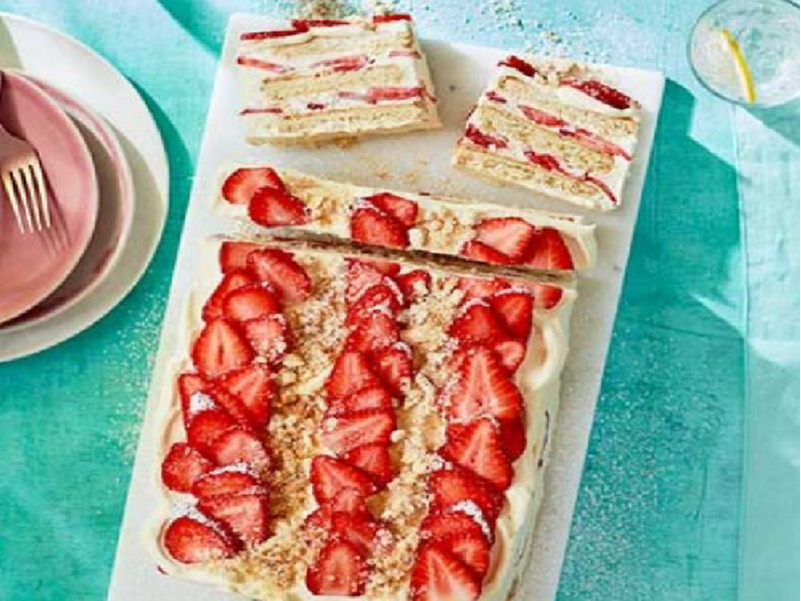 Whip up this indulgent summer cake in no time! Made with cream, shortcake and strawberries, this is sure to go down a treat!
Prep: 35 mins (plus overnight chilling)
Cook: N/A
Calories: 442 per serving
Ingredients (serves 14):
600ml double cream
1 tablespoon vanilla extract
1 tablespoon orange blossom water
125g icing sugar (plus a little extra for dusting)
500g shortcake biscuits (plus 4 extra for the top)
350g strawberries (sliced)
Method:
1. Choose a 20cm cake tin or dish (either rectangle or square) and line with cling film, leaving a little overhanging.
2. Whip together 500ml cream, the vanilla extract, orange blossom water, and the icing sugar. An electric whisk works best for this, so it becomes thick and billowy.
3. In the cling filmed tin or dish, add a layer of shortcake biscuits and spoon over some of the cream mixture at about 1cm thick, then add a layer of strawberries. Repeat this process until the tin is full and you have finished on a layer of biscuits. You should have some strawberries left over – set these to one side.
4. Press the cake down inside the tin so that everything is wedged together and the biscuits are all covered in cream (but not the top ones!), then cover and chill overnight.
5. Before you're ready to serve, take the cake out of the fridge and slip it onto a serving plate, then remove the cling film. Whip up the remaining cream with a tablespoon of icing sugar and spread on top of the cake. Use the remaining strawberries to create three lines of strawberries (with a little gap in between each line) and then crumble up the remaining biscuits and sprinkle between the rows of strawberries.
6. When you're ready to serve, dust over a little icing sugar and then cut into slices!
Top Tip: If you're feeling fruity, add some other summer berries when serving to brighten it up!