Recipes
Speedy Spinach & Lamb Curry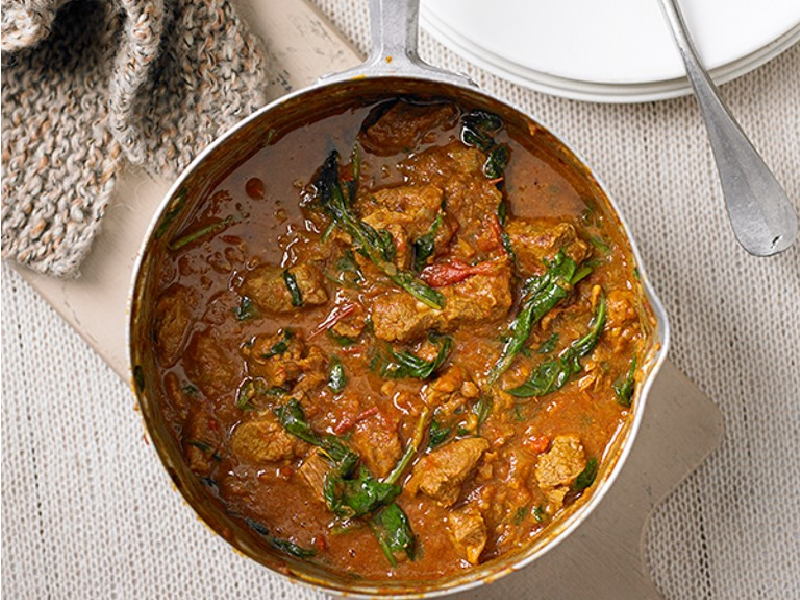 The perfect recipe for a quick curry fix – use a tender cut of meat than can be stir-fried instead of stewed!
Prep: 10 mins
Cook: 7 mins
Calories: 831 per serving
Ingredients (serves 4):
1/2 teaspoon cumin seeds
2 teaspoon sunflower oil
200g lean lamb steak (cubed)
1 red pepper (deseeded and sliced)
1 green chilli (deseeded and sliced)
2 tablespoons mild curry paste
225g can chopped tomato
160ml can coconut cream
100g bag baby spinach
1/2 a 20g pack coriander (chopped – about 1 tablespoon)
Method:
1. Dry-fry the cumin seeds for about 20 seconds in a wok, then add half the oil and stir-fry the lamb for about 1 minute until browned, but not cooked all the way through. Tip onto a plate.
2. Add the rest of the oil to the wok, then stir-fry the pepper and chilli for a couple of mins until softened. Stir in the curry paste, tomatoes and coconut cream with half a can (from the tomatoes) of water, then simmer for about 5 minutes until saucy.
3. Add the lamb, spinach and coriander, stir until the spinach has wilted, and serve!
Top Tip: Serve with basmati rice to make this extra tasty.