Recipes
Speedy Seafood Pasta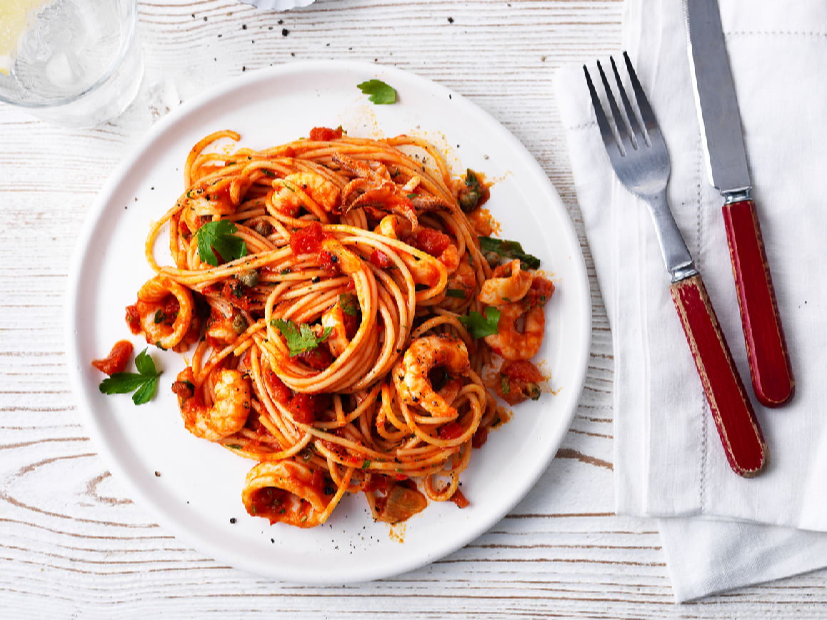 This delicious, low fat pasta is perfect for a Friday night treat! Pair this with a cold glass of dry white wine to complete the restaurant experience.
Prep: 5 mins
Cook: 20 mins
Calories: 370 per serving
Ingredients (serves 4):
1 teaspoon olive oil
1 large onion (finely chopped)
1 garlic clove (finely sliced)
1 teaspoon paprika
400g chopped tomatoes
1L chicken stock (made with 1 cube or fresh)
300g spaghetti (roughly broken)
240g pack of frozen seafood mix (defrosted)
Handful parsley leaves
Lemon wedges
Method:
1. Heat the oil in a large frying pan or wok and then add the onion and garlic and cook on a medium heat until soft.
2. Add the paprika, stock and tomatoes and then bring to the boil.
3. Turn the heat down so the mixture is simmering, then add the pasta and cook for 7 minutes, stirring occasionally so the pasta does not stick.
4. Stir in the seafood mixture and cook for a further 5 minutes, until everything is heated through and the pasta is cooked.
5. Divide evenly into bowls, sprinkle some parsley on top and add a lemon wedge on the side, then serve.