Recipes
Raspberry Ripple Ice Cream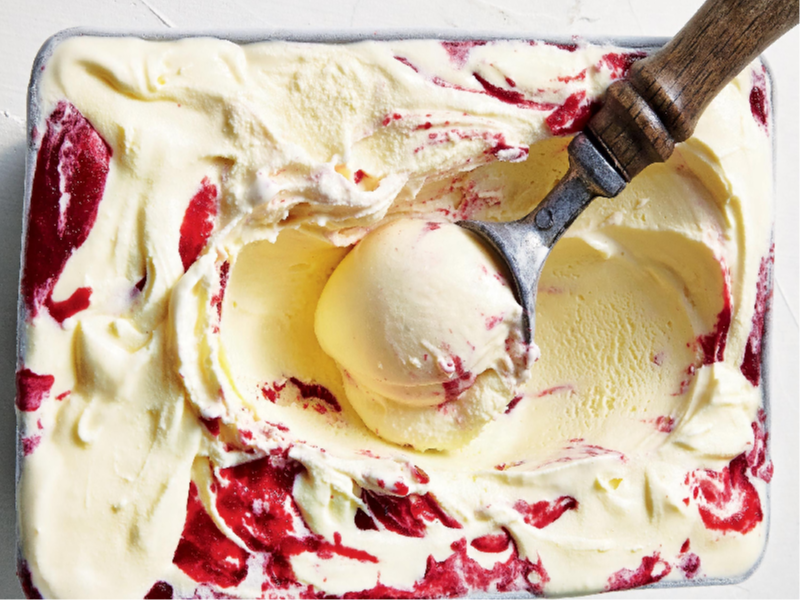 No ice cream maker needed! Just pop it in the freezer and then enjoy in the summer sun!

Prep: 10 mins
Cook: 20 mins (and 6+ hours freezing)
Calories: 1193 per batch

Ingredients (serves 12):
250g fresh raspberries
225g caster sugar
2 large eggs
4 egg yolks
600ml double cream

Method:
1. In a small plan, place the raspberries and 2 tablespoons of sugar, then cook on a medium heat until the sugar has dissolved. Simmer for 5 minutes until thickened, and then push the mixture through a sieve and into a bowl. You can throw away the seeds left in the sieve.

2. Put the 2 eggs, 4 yolks and the remaining sugar in a bowl and whisk with an electric whisk to combine. Then place the bowl over a pan of gently simmering water (make sure the bowl isn't actually touching the water) and beat with an electric whisk until fluffy and pale. Remove the bowl from the heat and let it cool.

3. In a new bowl, which the cream until you can form soft peaks, and then gently fold in the cool egg mixture until they are combined, then pour the mixture into a shallow, freezer-proof dish.

4. Gently swirl through the raspberry coulis and then cover with Clingfilm and freeze for a minimum of 6 hours.

5. When its read, scoop into bowls or cones and enjoy!

Top Tip: Slice up fresh fruit to serve with the ice cream (we love extra raspberries and fresh mango) or add sprinkles and sauce for the kids!