Recipes
Prawn & Cashew Curry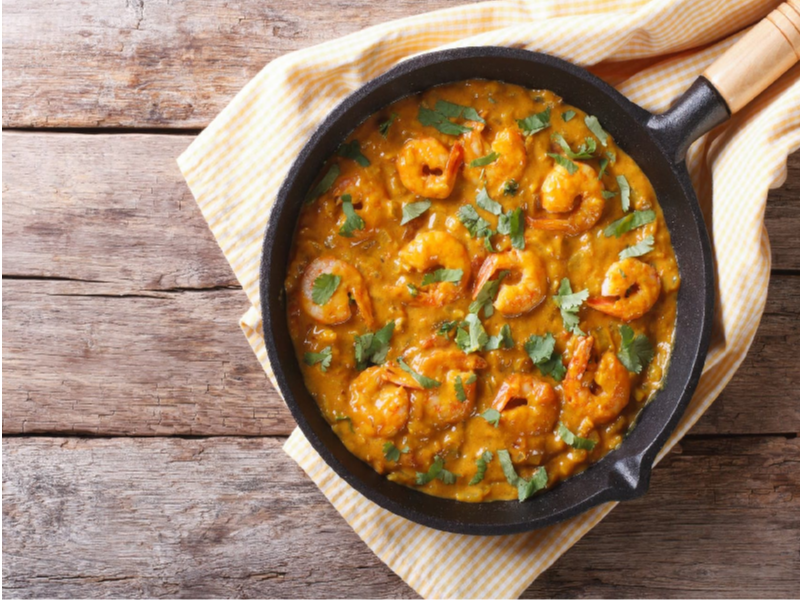 This aromatic curry is rich with flavour! Serve it up with rice and Indian breads to soak up the creamy tomato sauce.
Prep: 30 mins
Cook: 1hr 10m
Calories: 507 per serving
Ingredients (serves 4):
1 onion (chopped)
Thumb-sized piece of ginger (peeled and chopped)
4 garlic cloves (peeled and chopped)
2 green chillies (de-seeded)
Small bunch coriander (leaves picked and stalks roughly chopped)
1 tablespoon of butter or ghee
1 tablespoon sunflower oil
2 tablespoons garam masala
150g unsalted cashew nuts
400g chopped tomatoes
400ml chicken stock
400g raw king prawns
150ml natural yoghurt
50ml double cream
Method:
1. Mix together the onion, ginger, chillies, garlic and coriander stalks in a food processor to create a paste. Then heat the butter or ghee in a large pan and add the paste to the pan and stir-fry for 5 mins to soften. Add the garam masala to the mixture and cook for a further two minutes until it's all fully blended.
2. In a small pan, toast all of the cashew nuts until they are golden, then put half of them into the food processor and blend until finely ground – set aside the remaining cashews.
3. Add the blended cashews to the pan, along with the tomatoes and chicken stock, and bring to the boil. Season and put a lid on the pan, then bring to a low heat and simmer for 45 minutes.
4. After 45 minutes, add the prawns and cook for about 3-4 minutes until they are pink and cooked. Then, add the yoghurt and double cream and stir well.
5. Scatter the remaining cashew nuts and coriander into the pan and then serve up with rice and Indian breads!