Bread Baking Corner
Pesto & Mozarella Focaccia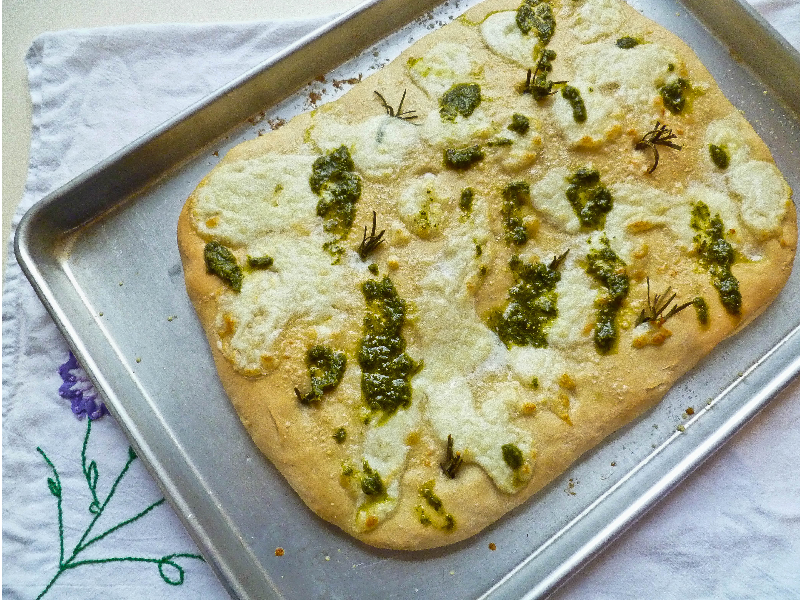 Jump on the latest trend and give focaccia a go!
Prep: 25 mins
Cook: 30 mins
Ingredients:
500g strong white flour (plus extra for dusting)
1 1/2 tsp salt
7g sachet fast-action yeast
2 tbsp olive oil (and a little extra for drizzling)
325ml tepid water
125g drained mozzarella
5 tablespoons pesto
Method:
1. Mix the flour and salt in a large mixing bowl, and then in a separate bowl mix the yeast into the water. Next, add the water/yeast mixture to the flour, along with the oil, and mix well with your hands. When everything has been mixed together well, mould the mixture into a ball of dough.
2. Lightly dust your worktop with flour, and then tip the ball of dough out onto it. Work the dough by stretching and pulling at it for about 10 minutes so you can get as much air as possible into it. Then, put the ball of worked dough into a well-oiled bowl and cover with a tea towel or cling film. Leave it to rest for 1 hour in a warm spot, until it has doubled in size.
3. Once the dough has risen, stretch it out onto a baking sheet until it's about 20cm x 30cm and then cover it loosely with a tea towel and leave it in a warm spot for 40 minutes, until it's doubled in height again. Whilst the dough is rising, preheat the oven to 180C/160C fan/gas 4.
4. When the dough has risen, gently press your fingers into it to make some holes, and then bake in the oven for about 15 minutes. Remove the bread from the oven and tear over the mozzarella, then bake for another 10 minutes until the bread is golden and cooked through.
5. Remove the bread from the oven, drizzle over the pesto, and scatter with sea salt. You can leave the bread to cool, and tuck in whilst it's hot!