Recipes
Pesto Chicken Bake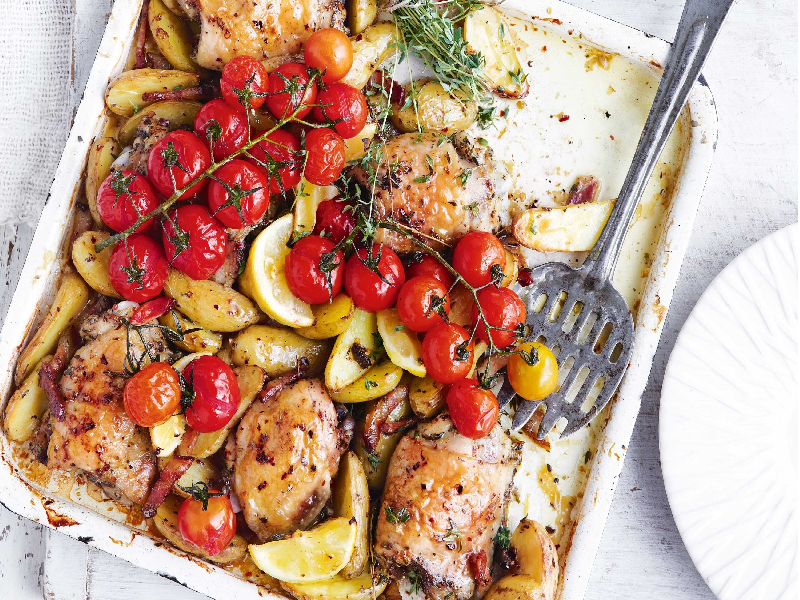 This delightful dish will melt in your mouth! Served with roasted tomatoes, it's perfect as a light evening meal, and you can add new potatoes or crusty bread to help it go down.
Prep: 10 mins
Cook: 25 mins
Calories: 545 per serving
Ingredients (serves 4):
4 boneless, skinless chicken breasts
3 tablespoons pesto
85g mascarpone
4 tablespoons olive oil
100g breadcrumbs
175g baby vine tomatoes (left on vine)
Handful of pine nuts
Handful basil leaves
Method:
1. Preheat the oven to 200˚C/Fan 180˚/Gas 6.
2. Using a small, sharp knife, cut into the side of each chicken breast to create a pocket. Mix the pesto and mascarpone together and then spoon a quarter of the mixture into each chicken breast and then smooth over the opening to seal. You can also use toothpicks to help seal the chicken, if needed.
3. Brush over each chicken breast with a little oil and season them with salt and pepper. Tip the breadcrumbs into a shallow bowl and one by one, gently press each chicken breast into the crumbs on all sides until they are covered.
4. Lightly oil a shallow baking dish and place each chicken breast in there, along with the vine tomatoes. Drizzle with the remaining oil and then bake in the oven for 20-25 minutes, until the chicken is cooked through.
5. Add the pine nuts over the dish and return to the oven for a further two minutes, then take the dish out, sprinkle the basil on top and serve with either new potatoes or crusty bread!