Recipes
Peanut Butter & Jam Flapjacks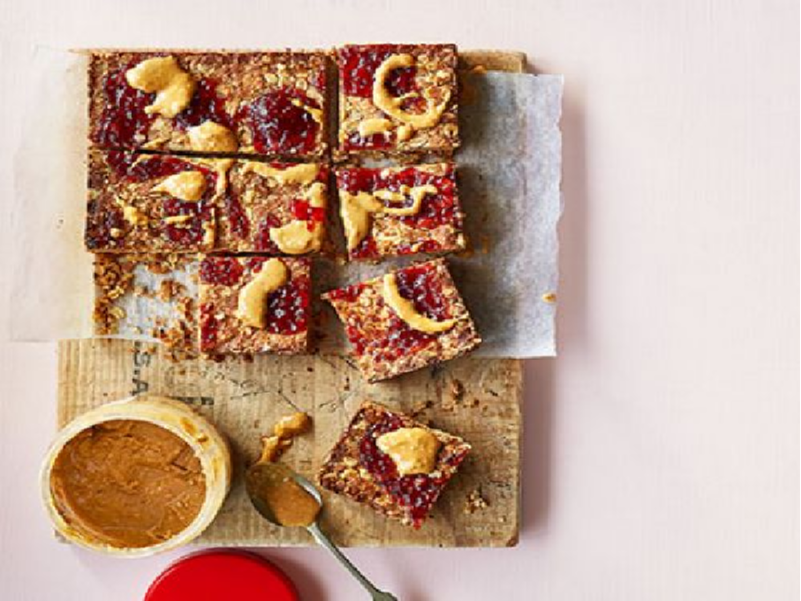 These delicious flapjacks combine the salty peanut butter with the fresh and fruity jam, creating an American-inspired snack!
Prep: 15 mins
Cook: 30 mins (plus cooling)
Calories: 399 per serving
Ingredients (makes 9):
5 tablespoons salted butter (plus extra for the tin)
250g crunchy peanut butter
8 tablespoons raspberry jam
80g light soft brown sugar
200g rolled oats
Method:
1. Heat the oven to 180C/160C fan/gas 4 and butter and line the base and sides of an approximately 20cm square cake tin with baking paper.
2. In separate bowls, put 2 tablespoons of the peanut butter and 3 tablespoons of the jam, and set aside. Tip the remaining peanut butter and jam into a pan, with the butter and sugar, and set over a medium heat. Stir it all together until it has melted and merged and then quickly stir in the oats. Allow this to cool for 5 minutes.
3. Spoon the mixture into the cake tin and gently press them down until they are even. Dot over the remaining peanut butter and jam and then bake in the over for approximately 25 minutes, or until golden.
4. Once cooked, leave them to cool completely, before turning it out and cutting into squares.
Top Tip: There's no specific jam for this recipe, so choose whichever one you like best!