Recipes
Peach Iced Tea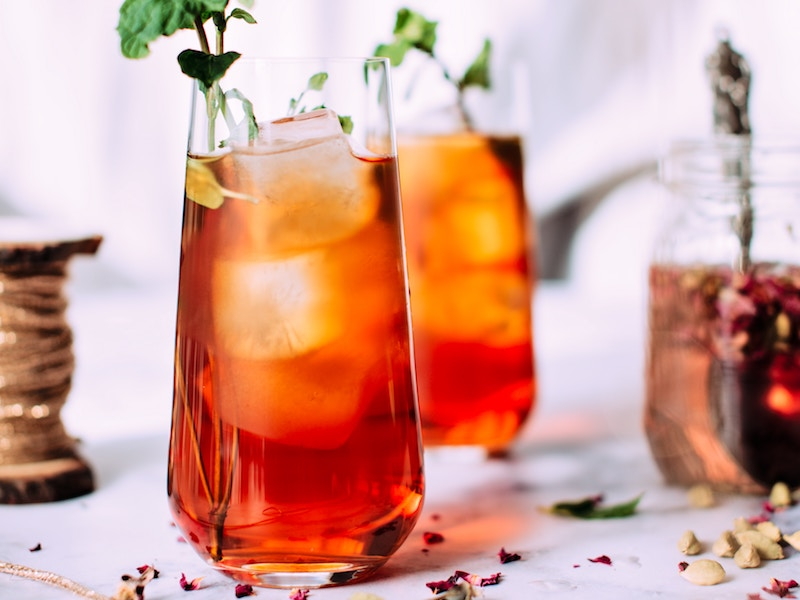 Enjoy this refreshing drink in the sun! This will be a hit with the whole family, and you can try it with raspberries too.
Prep: 10 mins
Cook: 5 mins (plus 1 hours infusing)
Calories: 78 per serving
Ingredients (serves 12):
200g granulated sugar
5 ripe peaches (4 stoned and chopped and 1 sliced for serving)
4 teabags
Ice (to serve)
Mint sprigs (to serve)
Method:
1. Put the sugar in a large pan with 250ml water and slowly bring to the boil until the sugar is fully dissolved.
2. Add the chopped peached to the pan and cook them until they are soft, then remove from the heat and mash the peaches with a fork, and leave the mixture to infuse for 1 hour (this will make the syrup).
3. Sieve the syrup through a fine sieve into a jug and make sure you mash the fruit down to release all of the liquid.
4. Put the teabags in a large heatproof jug and pour over 2 litres of boiling water. Leave the teabags for 4 minutes and then carefully remove them. Leave the jug to cool and then move to the fridge to chill.
5. Stir the syrup into the iced tea mixture and pour in to some tall glasses. Add a couple of slices of peach and plenty of ice. Pour the iced tea into each glasses, add a sprig of mint, and then quench your thirst!