Recipes
One-Pot Sausage, Kale & Gnocchi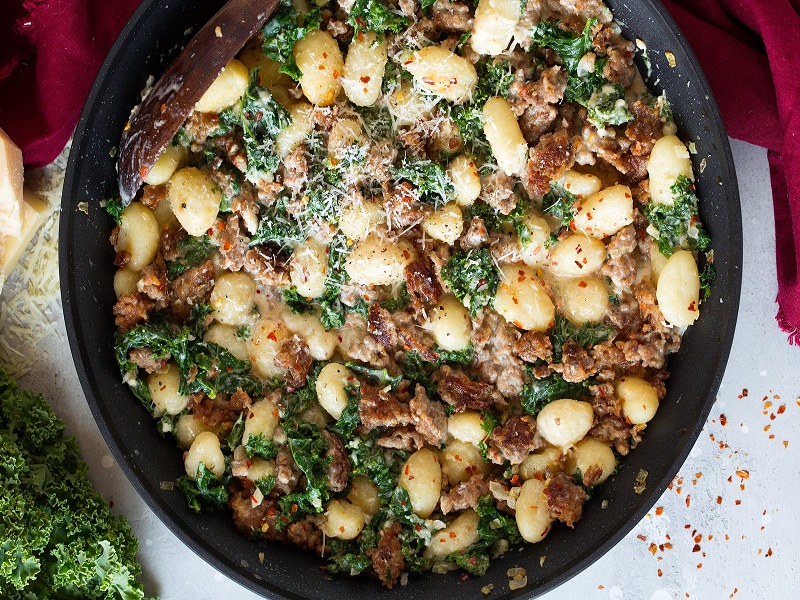 Plate up this delicious one-pot of sausage, kale and gnocchi in just 20 minutes, with just five minutes prep. Midweek suppers never got so tasty!
Prep: 5 mins
Cook: 15 mins
Calories: 516 per serving
Ingredients (serves 4):
1 tablespoon olive oil
6 pork sausages
1 teaspoon chilli flakes
500g fresh gnocchi
500ml chicken stock
100g chopped kale
40g parmesan (finely grated)
Method:
1. Heat the oil in a large high-sided frying pan over a medium heat.
2. Squeeze the sausages straight from their skins into the pan, then use the back of a wooden spoon to break the meat up. Sprinkle in the chilli flakes then fry until the sausage meat is crisp around the edges. Remove from the pan with a slotted spoon.
3. Tip the gnocchi into the pan, fry for a minute or so, and then pour in the chicken stock. Once bubbling, cover the pan with a lid and cook for 3 mins, then stir in the kale.
4. Cook for 2 minutes more or until the gnocchi is tender and the kale has wilted, then stir in the parmesan and then season with black pepper
5. Scatter the crisp sausage meat over the top and serve into warm bowls.
Top Tip: Add a teaspoon of fennel seeds in with the chilli flakes for some extra flavour.