Recipes
One-Pan Salmon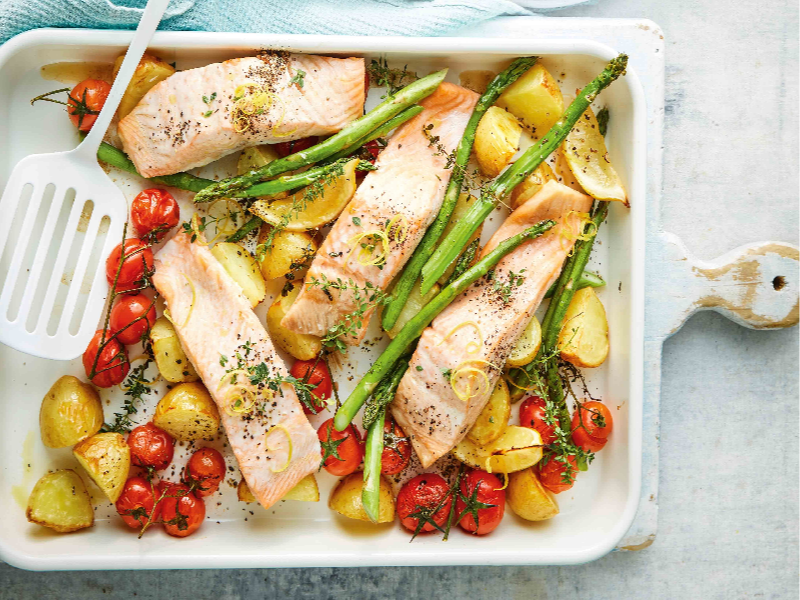 A perfect spring dish to enjoy in the sun, or you can easily remove the salmon to serve as a side dish for your spring roast!
Prep: 20 mins
Cook: 50 mins
Calories: 483 calories per serving
Ingredients (serves 2):
400g new potatoes (halved if large)
2 tablespoons olive oil
8 asparagus stems (trimmed and halved)
2 handfuls cherry tomatoes
1 tablespoon balsamic vinegar
2 salmon fillets (approximately 140g each)
1 handful basil leaves
Method:
1. Preheat the oven to 220C/fan 200C/gas 7.
2. Put the potatoes in a large oven-proof dish with 1 tablespoon of the olive oil and mix until they are coated in oil. Add them to the oven and roast for about 20 minutes until the potatoes start to brown, then add in the asparagus and cook for a further 15 minutes.
3. Next, add the cherry tomatoes to the dish and drizzle with the balsamic vinegar. Put the salmon in the dish amongst the vegetables and pour over the remaining olive oil, then return the dish to the oven for 10 – 15 minutes, until the salmon is cooked.
4. Sprinkle torn basil leaves over the top and then serve!