Recipes
Minestrone Soup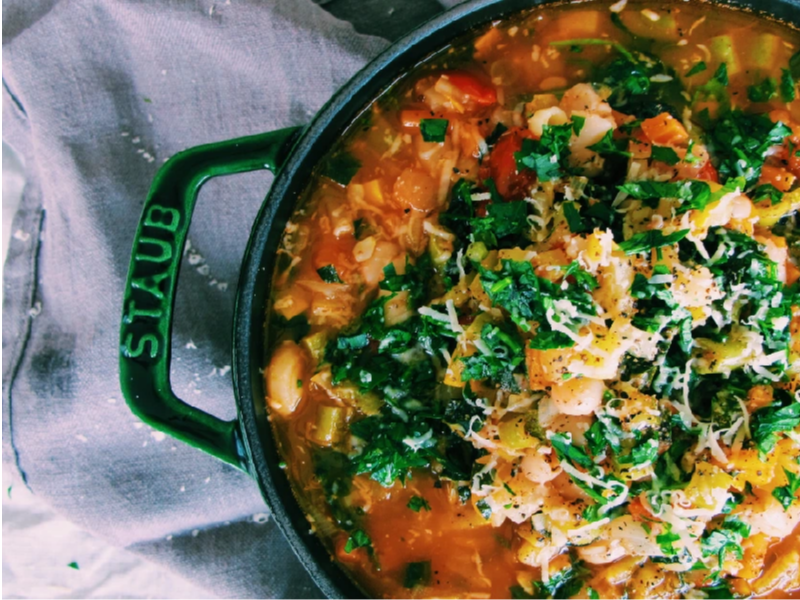 This scrummy soup goes great with a chunky slice of wholemeal bread and is only an extra 17 calories sprinkled with a little Parmesan cheese.
Prep: 10 mins
Cook: 25 mins
Calories: 98 per serving
Ingredients (serves 4):
4 ripe tomatoes
2 teaspoons olive oil
1 small onion (finely chopped)
1 celery stick (finely sliced)
2 garlic cloves (peeled and finely sliced)
1 leek (trimmed and finely sliced)
2 medium courgettes (diced)
1.5 litres of chicken stock (either fresh or made with 1 stock cube)
50g dried spaghetti
1 tablespoon tomato purée
200g frozen peas
100g curly kale or green cabbage (thickly shredded)
Salt and pepper (to season)
25g parmesan (optional)
Fresh basil leaves to garnish (optional)
Method:
1. Make a cross in the bottom of the tomatoes and put them in a heatproof bowl. Pour over some boiling water (just enough to cover the tomatoes) and leave them for 1 minute. Drain them, remove the skins, and then leave to cool.
2. In a large non-stick saucepan heat the oil and then add the onions and fry gently for five minutes until they are softened. Whilst the onion is cooking, cut the tomatoes into quarters, scoop out the seeds, and dice them into approximately 1cm cubes.
3. Then, add the celery, garlic, leek and courgettes to the pan with the onion and stir over a low heat for a couple of minutes. Add the tomatoes, pour over the chicken stock, and bring it to the boil.
4. Break the spaghetti into thirds and add it to the pan along with the tomato purée and cook for 8-10 minutes. Add the peas and kale (or cabbage) and cook for a further 5 minutes or until the pasta is tender.
5. Season the soup with salt and plenty of black pepper. Serve with a sprinkling of parmesan and some fresh basil too!