Recipes
Meatball Sub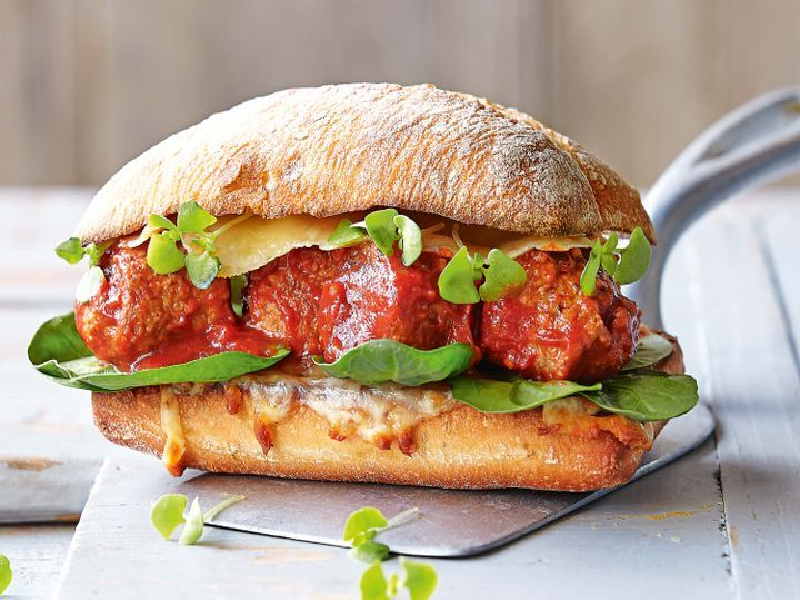 This super lean sub is a replica of one of our favourite lunch time takeaways, but it's packed with plenty of goodness to keep you full until dinner.
Prep: 10
Cook: 20 mins
Calories: 785
Ingredients (makes 1 sub):
1/2 teaspoon coconut oil
250g ready-made turkey meatballs (approximately 4)
200g tinned chopped tomatoes (about 1/2 a tin)
2 teaspoons dried Italian herbs
1 large sub roll (or you can use a panini!)
1/4 red pepper (finely sliced)
1/4 red onion (finely sliced)
1 tablespoon jarred jalapeños
Method:
1. Melt the coconut oil in a medium pan over a high heat and once hot add the meatballs. Fry them for about 3-4 minutes, until they start to brown, and then add the chopped tomatoes and herbs to the pan.
2. Bring the pan to the boil and then simmer for about 10 minutes until the meatballs are cooked through. You can cut one open to check there are no raw pink parts inside.
3. Put your sub roll in the microwave for about 30 seconds to make it nice and soft and then cut in half lengthways.
4. When the meatballs are ready, spoon them onto the bottom half of the sub and top them with peppers, onions and jalapenos.
5. Pop the top of the sub on and enjoy!