Recipes
Ice Lollies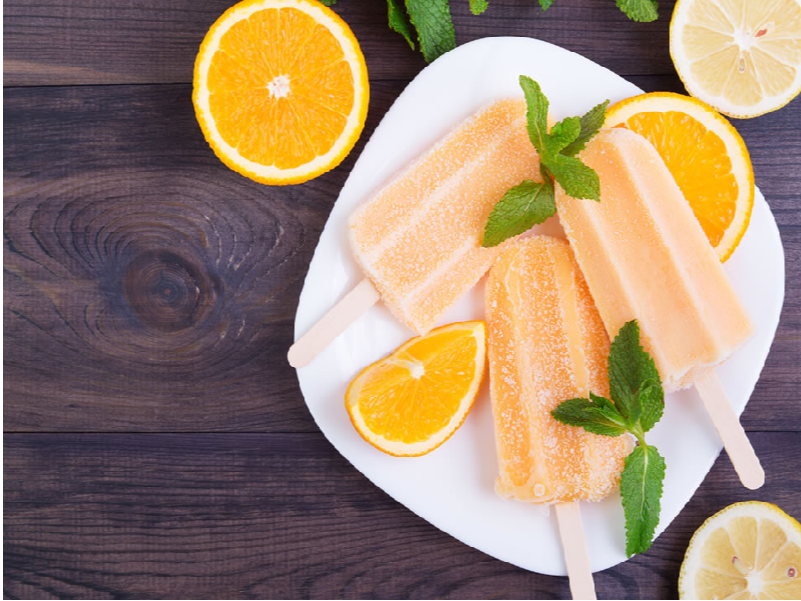 We've got three tasty ice lolly recipes for you to try! They're so quick and easy to make, and perfect to enjoy out in the sun! Each recipe makes six 50ml lollies, but you can double the ingredients to fill a bigger mould if needed.
Strawberry & Orange (35 calories per lolly)
200g strawberries
100ml freshly squeezed orange juice
Juice of 1/2 a lime
2 tablespoons sugar
Put everything in a blender and whizz everything until it is smooth. If you like you can remove the strawberry seeds by straining the mixture before adding it to the moulds, then when you're ready you can add them to the freezer to set.
Blueberry, Banana & Yoghurt (45 calories per lolly)
100ml fat-free natural yoghurt
100g banana
Juice of 1/2 a lime
100g blueberries
2 drops of vanilla extract
1 tablespoon honey
Put the yoghurt, banana, lime juice, honey, vanilla extract, and half of the blueberries into the blender and blitz until it is fairly smooth – there'll still be small pieces of blueberry visible, but this is fine. Add the other half of the blueberries to the blender and pulse a couple of times to break them up slightly, then pour into the moulds and freeze until set.
Pina Colada (44 calories per lolly)
150ml reduced fat coconut milk
150g fresh or tinned pineapple
1 tablespoon of rum or Malibu
1 teaspoon honey or sugar (optional)
Put the coconut milk, pineapple (drained if you're using tinned), and rum into the blender and blend until everything is smooth. Pineapples can vary in sweetness so taste the mixture and add the honey or sugar if needed. Spoon any foam from the top of the liquid, pour into the moulds and then freeze until set.