Recipes
Healthy Chicken Madras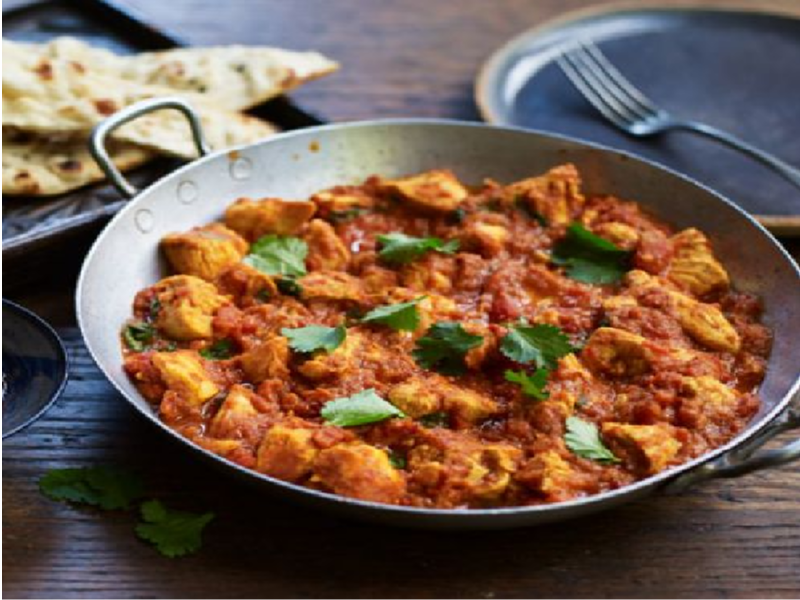 Don't get a take-away this Friday, try this delicious fake-away instead!
Prep: 20 mins
Cook: 30 mins
Calories: 373 per serving
Ingredients (serves 4):
1 onion (peeled and quartered)
2 garlic cloves
Thumb-sized piece of ginger (peeled)
1/2 red chilli
1 tablespoon vegetable oil
1/2 teaspoon turmeric
1 teaspoon ground cumin
1 teaspoon ground coriander
1 teaspoon hot chilli powder
4 chicken breasts (cut into chunks)
400g of tinned chopped tomatoes
Small pack of coriander (chopped)
Method:
1. Use a food processor to blitz together the onion, garlic, ginger and red chilli until it become a coarse paste.
2. In a large saucepan, heat the vegetable oil and then fry the paste for approximately 5 minutes until it softens. You can add a splash of water if it sticks to the pan.
3. Tip in the turmeric, ground cumin, ground coriander and chilli powder and stir together with the paste. Toast the spices for a couple of minutes, then add the chopped chicken breast and stir until it is covered in the spice mix.
4. Cook the chicken until it begins to turn pale, and again, you can add a little water to the base of the pan if it sticks.
5. Pour in the chopped tomatoes and season with salt and pepper. Cook on a low heat for about 30 minutes, until the chicken is tender.
6. Once cooked, stir through the chopped coriander and serve!
Top Tip: You can serve this dish with rice, naan bread, and a big dollop of mango chutney!