Recipes
Creamy Mushroom & Blue Cheese Gnocchi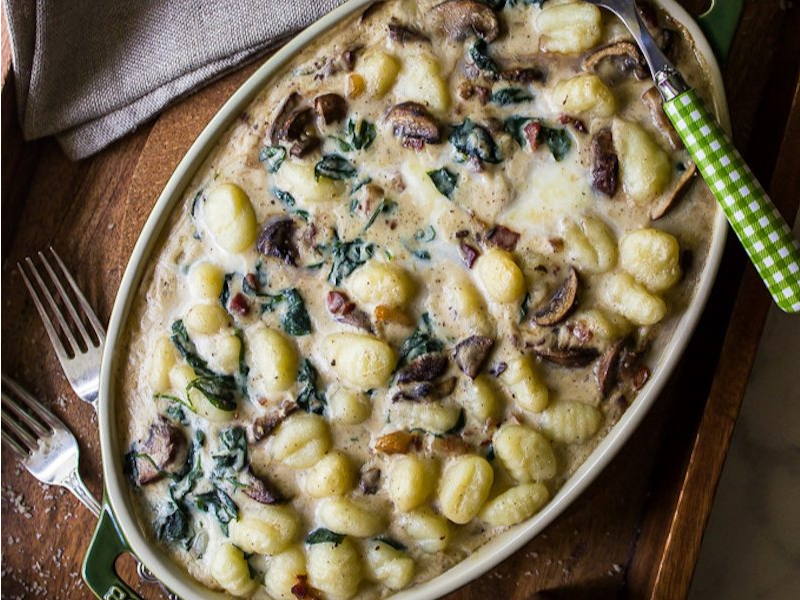 An easy vegetarian dinner full of rich flavour! If you feel like something milder, try using soft goat's cheese instead – it's just as tasty!

Prep: 10 mins
Cook: 10 mins
Calories: 471 per slice

Ingredients (serves 4):
800g fresh gnocchi
1 tablespoon olive oil
Knob of butter
1 large onion (roughly chopped)
500g Portobello mushrooms (sliced)
2 large garlic cloves (minced)
150g of creamy blue cheese
1 small pack fresh parsley (chopped)

Method:
1. Bring a large pan of water to the boil and cook the gnocchi as per the instructions on the pack. They should be ready when they come to the top of the pan and you can then drain them and set to one side.

2. Next, in a large pan with a lid, heat the oil and butter. Add the onions and mushrooms and cook for 1 minute over a high heat, then turn the heat down to medium, place the lid on top and cook for a further 5 minutes, stirring from time to time.

3. Remove the lid and add the garlic, cooking for 2 minutes, then stir the gnocchi into the pan. Scatter over blobs of the blue cheese and sprinkle over the parsley, then serve!