Recipes
Chicken & Chorizo Jambalaya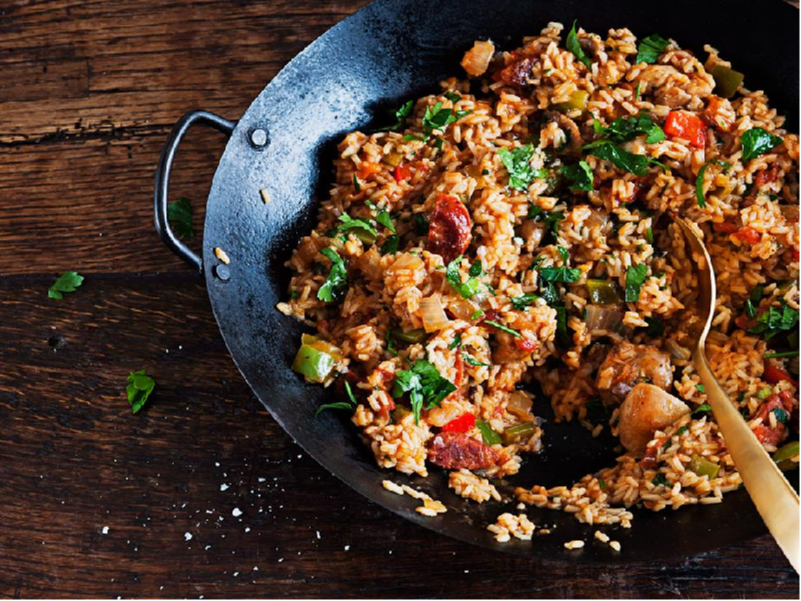 Tuck into this Cajun-inspired, one-pot rice dish. With spicy Spanish sausage, sweet peppers and tomatoes, this is sure to get your tastebuds tingling!
Prep: 10 mins
Cook: 45 mins
Calories: 445 per serving
Ingredients (serves 4):
1 tablespoon olive oil
2 chicken breasts (diced)
1 medium red onion (diced)
1 red pepper (thinly sliced)
75g chorizo (sliced)
1 tablespoon Cajun seasoning
250g long grain rice
400g tin chopped tomatoes
350ml chicken stock
Method:
1. Choose a large frying pan with a lid and heat the olive oil. Add the chicken and cook for 5-8 minutes until golden, and once cooked set it to one side.
2. Add the onion to the pan and cook until they are soft, then add the peppers, garlic, chorizo and Cajun seasoning and cook for a further 5 minutes.
3. Stir the chicken back in along with the rice and add the tinned tomatoes and chicken stock. Cover the pan and simmer for 20-25 minutes until the rice is tender, then stir through and serve up!