Recipes
Bruschetta Prawn Skewers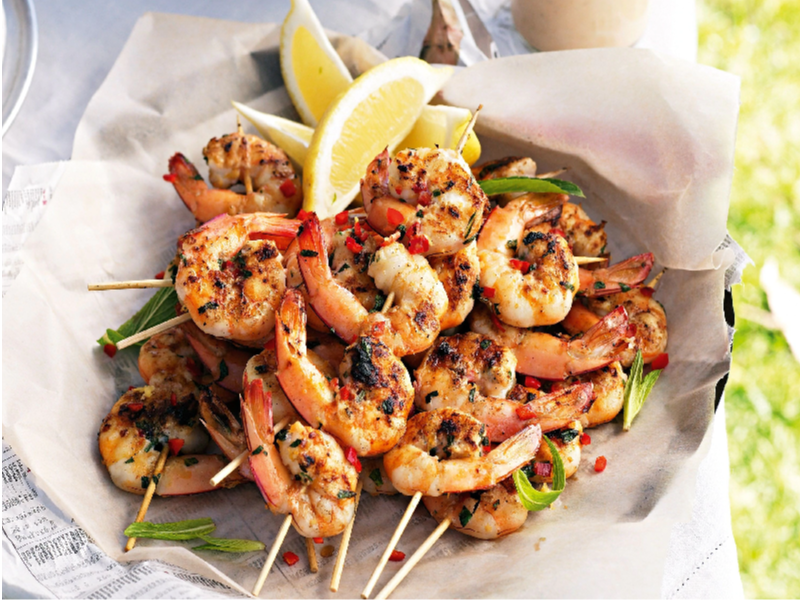 Get ready for this week's heatwave with this prawn skewers – perfect for the BBQ!
Prep: 10 mins
Cook: 5 mins
Calories: 140 per serving
Ingredients (serves 8):
16 large cooked prawns (about 200g)
1/3 ciabatta, focaccia or baguette loaf (cut into cubes)
1 tablespoon olive oil
1 garlic clove (finely sliced)
1 lemon (halved)
Handful parsley (chopped)
8 skewers (if you're using wooden ones you'll need to soak them for 1 hour beforehand, and possibly cut them to size)
Method:
1. Take your first skewer and thread the tail of the prawn on to it, then add a cube of bread and thread the top of the prawn over the top so that the prawn loops the bread. If your prawns aren't large enough, alternate the prawns and the bread, with two prawns and two bread cubes on each one.
2. Once all of the skewers are complete, drizzle them with olive oil and scatter the sliced garlic over them. You can either leave them in the fridge for a couple of hours so they marinate in the flavours, or you can take them straight to the BBQ.
3. When you're ready to cook, heat up your BBQ and put the skewers on. Cook them until the bread is lightly toasted, and then whilst they are still on the BBQ, squeeze over the lemon juice on both sides.
4. Once cooked, remove the skewers from the heat and drizzle with a little more oil. Scatter with the parsley and then serve up!
Top Tip: Add some extra spice to this dish by sprinkling over finely chopped chillies with the garlic!