Recipes
Banana & Pecan Nut Porridge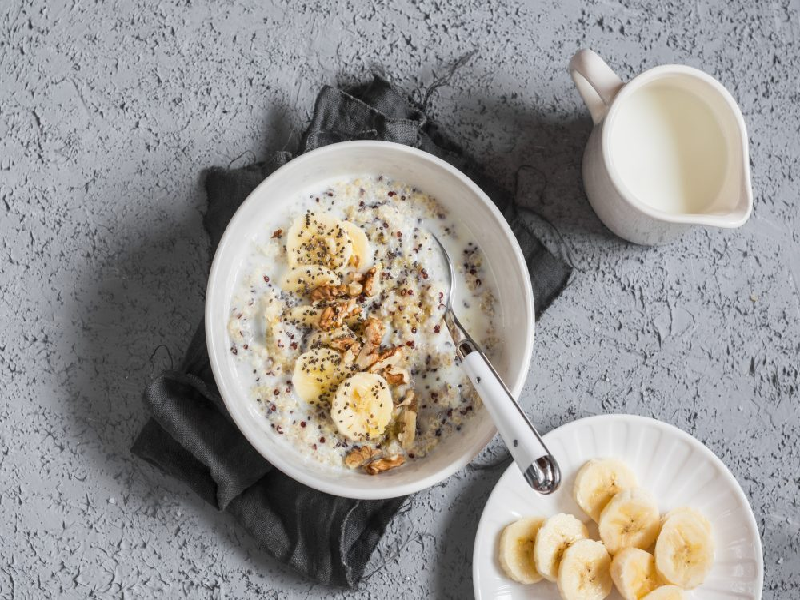 This tasty porridge will keep you full all morning! Toasting the oats beforehand is a great way of enhancing the flavour, and the pecans and bananas add great taste and texture.
Prep: 5 mins
Cook: 15 mins
Calories: 457 per serving
Ingredients (serves 1):
50g rolled oats
1 heaped tablespoon of pecan nuts
100ml wholemilk
100ml water
1 banana, thickly sliced
Method:
1. Preheat the oven to 200˚C/Fan 180˚/Gas 6.
2. Spread the oats out evenly on a shallow baking tray and toast them in the oven for 10 minutes, until they are golden brown and slightly crunchy. On a separate tray, toast the pecan nuts for about 5 minutes.
3. Once the oats are cooked, put them in small saucepan with the milk and water. Stir it all together and bring to the boil over a medium heat, then lower the heat and simmer the oats, stirring from time to time until the oats are tender.
4. Serve the oats into a bowl, add the pecans and banana on top, and enjoy!