Recipes
American Style Blueberry Pancakes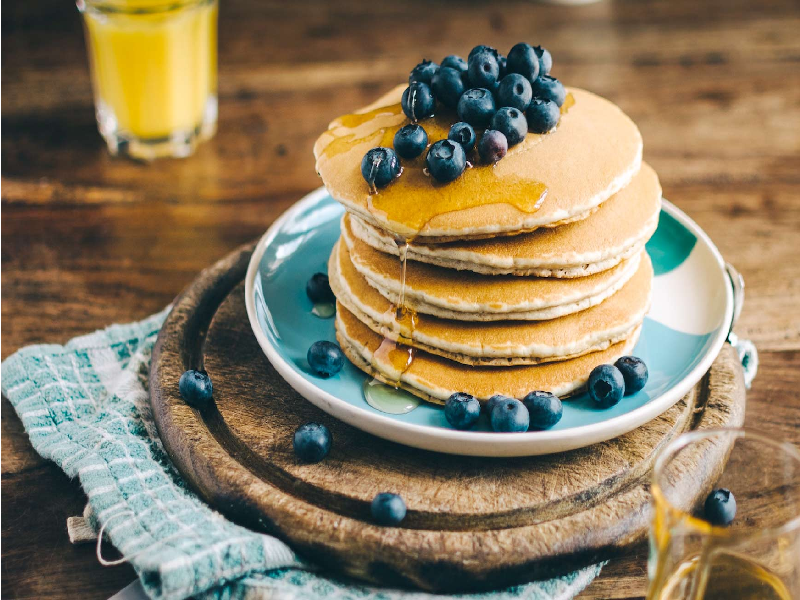 These light and fluffy pancakes are a staple breakfast item from across the pond! You can drizzle them with maple syrup and add extra fruit to make them extra scrummy.
Prep: 15 mins
Cook: 20 mins
Calories: 108 calories per pancake
Ingredients (makes 10):
200g self-raising flower
1 teaspoon baking powder
1 large egg
300ml milk
A knob of butter
150g blueberries
Sunflower oil or butter (for cooking)
Golden or maple syrup
Method:
1. In a large bowl, mix together the flour, baking powder and a pinch of salt, then in a separate bowl, beat together the egg and the milk.
2. Make a well in the middle of the dry mix and pour the milk and egg mixture in, then whisk to mix all of the ingredients together. Beat in the knob of butter, and then gently stir in half of the blueberries.
3. Heat a small amount of butter (or the sunflower oil) in a frying pan until hot and pour a large tablespoon of batter into the pan. If you can, try and make it about 7.5cm in diameter, and you can also make 3-4 pancakes at the same time.
4. Cook each pancake for about 3 minutes over a medium heat, and when small bubbles begin to appear on the surface of the pancakes, flip them over and cook for another 3 minutes until they're golden.
5. You can keep each batch of pancakes warm by wrapping them in some kitchen paper, and once they are all cooked, stack them on top of each other, pour over the syrup, sprinkle on the remaining blueberries and dig in!