Recipes
10 Minute Pad Thai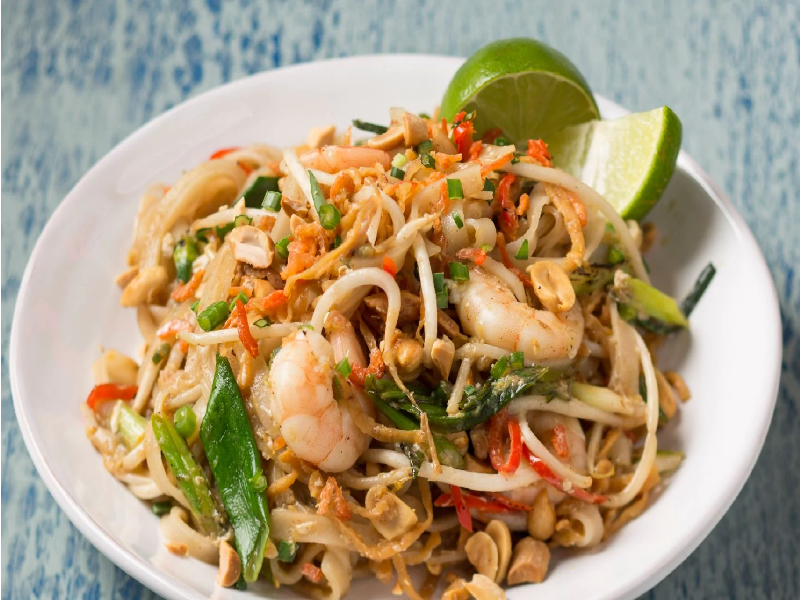 Who needs a take-away when you can make this delicious one pan dinner for two at home?!
Prep: 10 mins
Cook: 10 mins
Calories: 494 per serving
Ingredients (serves 2):
200g raw prawns
1 small pack coriander (stalks finely chopped and leaves roughly chopped)
400g straight-to-wok pad Thai noodles
85g beansprouts
1 egg (beaten with a fork)
Juice of 1 lime (plus wedges to serve)
1 tablespoon fish sauce
1 tablespoon fish sauce
1 tablespoon fish sauce
2 teaspoons sugar
1 tablespoon roasted peanuts to serve (roughly chopped)
Method:
1. In a non-stick frying pan, dry-fry the prawns with the coriander stalks for 1-2 minutes, until the prawns start to turn pink.
2. Then add the noodles, beansprouts, beaten egg, lime juice, fish sauce, and sugar, and quickly toss them together for another 2 minutes until the egg is cooked and everything is mixed well.
3. Remove the pan from the heat and mix in most of the coriander leaves, then divide the mixture between two bowls.
4. Scatter the roasted peanuts evenly over the bowls and sprinkle with the remaining coriander, then add a lemon wedge to the side and enjoy!
Top Tip: You can add some sliced chillies to this dish to turn up the heat!