Bird Box Making
Participants of the Bird Box Making Craft Class have been sending in videos and images of their finished boxes.
We reformatted the way our Bird Box Making Craft Class would take place, whilst we're working remotely. We posted a bird box making pack to our occupiers with detailed instructions, so they could build it at home. Here are the results!
These bird boxes have a 32mm entrance hole, so they are designed for a variety of small birds. We hope our occupiers might see Blue Tits, Nuthatches, Great Tits or even House Sparrows nesting in their box.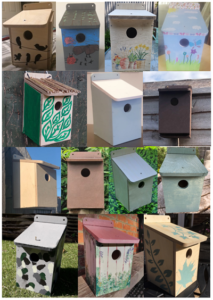 Congratulations to the winner of our bird box making competition who created the below box. Well done Julie!